Time to revisit a classic.
Introduced in Modern Horizons 2, Wizards of the Coast began to print cards with the pre-Modern frame as part of the Booster Fun mindset when opening Magic: The Gathering boosters.
What is a Retro Frame Card in Magic: The Gathering?
Sol Ring (Retro Frame)
WPN & Gateway Promos
Market Price: $7.23
Referred to as the retro frame, this frame treatment pays homage to the pre-Modern Magic: The Gathering frame. In 2021, Wizards of the Coast began to introduce retro frame cards as part of the unique treatment you can open in booster packs, starting with Modern Horizons 2.
In most cases, these retro frames feature on reprinted cards such as Sol Ring, and Prismatic Vista. In Modern Horizons 2, Wizards of the Coast reprinted an array of fetch lands—Misty Rainforest, Scalding Tarn, Marsh Flats, Arid Mesa and Verdant Catacombs as these were originally in Zendikar, which uses the modern frame. Eventually, retro frames expanded to various Secret Lair Drops and WPN Promos. 
Market Price: $17.04
Market Price: $16.32
The Brothers' War will introduce retro frame cards to the Standard set where there will be a mix of reprinted and brand-new cards. Retro and retro schematic frames are another nod to the classic treatment but also incorporate a blueprint artwork of the artifact. In addition, both Urza's Iron Alliance and Mishra's Burnished Banner will only come in the retro frame, making it the first Commander Precon product to do this. 
Do Foil Retro Frame Magic: The Gathering Cards Exist?
Force of Vigor (Retro Frame)
Modern Horizons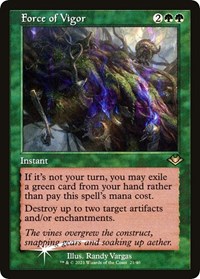 Market Price: $40.96
In most cases, retro frame cards can come in either traditional foil or etched foil treatment. Foil variants of these cards are popular as they feature the classic shooting star, an iconic feature of older foil Magic: The Gathering cards.
While they aren't for everyone, retro frames acknowledge players who have played Magic: The Gathering for a long time and appreciate the classic treatment. It is unlikely to feature in every Magic: The Gathering release, but you can expect the retro frame to appear once in a while in supplemental set releases.