Get up to speed with the premium Commander release.
Following the fantastic success of Double Masters 2022, Commander Masters is the next in the lucrative and desirable product line scheduled to drop in the summer, with a massive focus on the popular casual format — Commander.
Commander continues to grow year-on-year and is the most popular Magic: The Gathering format, and it isn't close. As a result, Commander Masters is the first ever Commander-focused Masters release where chase cards, stunning foil treatments, and much-needed reprints will feature within the release. While information remains light on Commander Masters, let's dive in and see what we know about the dedicated Commander reprint release so far.
Commander Masters Release Dates, Previews, and Event Schedule
The announced schedule for Commander Masters is as follows:
Debut and Previews Begin: July 11
Commander Deck Previews: July 17–20
Card Image Galleries Complete: July 21
WPN Premium Store Preview Events: July 28–30
Global Tabletop Launch: August 4
Commander Masters's global tabletop debut falls on August 4, with no plans for the release to appear on Magic Online (MTGO) yet, but the release will not appear on MTG Arena. But, there is a chance Commander Masters cards may appear in MTGO Treasure Chests upon redemption.
The Commander Masters previews begin on July 11, which will likely reveal more cards and additional product details from the highly-anticipated Commander release. In addition, the four Commander Precons will be revealed from July 17 to July 20. In terms of card legality, Commander Masters won't shift any card legality unless there are downshifts to Common, which would only apply to Pauper in this instance. As for the new cards that will appear in the Commander Precons, these will be Pauper, Commander, Legacy, and Vintage legal only.
Market Price: n/a
Market Price: n/a
Market Price: n/a
With that, there's been a smattering of reveals when Commander Masters was first announced in February on the WeeklyMTG Stream along with information about The Lord of the Rings: Tales of Middle-earth dropping in the same stream. Confirmed in Commander Masters so far is The Ur-Dragon, Capture of Jingzhou, and Jeweled Lotus to appear in the expansion, with Zacama and Gisa returning as they appear on the Set and Collector Booster Box art.
Commander Masters Mechanics
The Ur-Dragon
Commander Masters
Market Price: $50.00
As Commander Masters is mostly a reprint release, it is unlikely there will be any new mechanics unless they appear in the Commander Masters Precons, which will introduce a selection of never-before-seen cards. However, with the reveal of The Ur-Dragon, Emenince is confirmed to return. In addition, Cascade will make a return on the Eldrazi Legendary Zhulodok, Void Gorger who appears in the Eldrazi Unbound Commander Precon. The same applies for Sliver Gravemother as she comes with Encore, a keyword introduced in Commander Legends.
Commander Masters Products
Commander Masters – Draft Booster Box
Commander Masters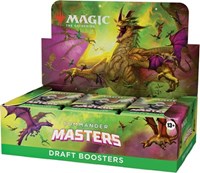 Market Price: $305.97
Market Price: $370.53
Market Price: $229.64
Market Price: $333.46
Going one further than the product line seen in Double Masters, Commander Masters will feature Draft, Set, and Collector Boosters available upon release. In addition, there will be four Commander Precons which will feature never-before-seen cards. Like with Double Masters 2022, Commander Masters Collector Booster Boxes will only contain four packs per box, likely offering some extremely high-value cards as seen with previous Masters releases.
Commander Masters Precons
Commander Masters Commander Deck – Sliver Swarm
Commander Masters
Market Price: $153.85
Market Price: $90.14
Market Price: $91.94
Market Price: $117.60
As mentioned earlier, Commander Masters will feature four Commander Precons — Eldrazi Unbound (Colorless), Silver Swarm (White/Black/Blue/Green/Red), Planeswalker Party (White/Blue/Red), and Enduring Enchantments (White/Black/Green) will support the Commander Masters release on August 4. As per Commander Precon releases, these will also include a Collector Booster Sample Pack, a two-card pack that will feature cards you can open in Collector Boosters from Commander Masters.
Sliver Gravemother
Commander Masters
Market Price: n/a
Market Price: n/a
Market Price: $30.00
Market Price: n/a
Wizards of the Coast recently revealed the four face Commanders to lead these exciting Precons with Zhulodok, Void Gorger, Sliver Gravemother, Commodore Guff, and Anikthea, Hand of Erebos being the chosen Legndaries to lead the release. While we're ways away from decklists, you can be sure these will be packed with great value in while incorporating new and exciting cards.
Commander Masters Card Treatments
Jeweled Lotus (Borderless)
Commander Masters
Market Price: n/a
While there's little information for Commander Masters, there's a selection of treatments that are sure to catch the eye of the most enthusiastic of EDH players. There's a new treatment called Frame Break Borderless, where the artwork on the card combines into the border — an effect seen on numerous Planeswalker cards over the years.
The Ur-Dragon (Borderless)
Commander Masters
Market Price: n/a
There's also a secondary treatment called the Profile Borderless Frame that only appears on Legendary Creatures in Commander Masters. As seen on The Ur-Dragon, the design offers a close-up image of the Legendary Dragon, giving personality to the popular Commander while leading an army of Dragons into battle.
Selvala, Heart of the Wilds (Foil Etched)
Commander Masters
Market Price: $175.00
And a treatment appearing in Modern Horizons and Commander Legends: Battle for Baldur's Gate, the Foil Etched treatment returns as seen on Selvala, Hear of the Wilds. While Foil Etched cards aren't as dazzling compared to other treatments, it offers a subtle and grainy effect for those who don't want to draw too much attention to their own cards.
Personal Tutor (Extended Art)
Commander Masters
Market Price: n/a
And a regular feature of Magic: The Gathering card treatments is the Extended Frame, which appears on cards such Personal Tutor and likely on many other cards as we draw closer to the July 11 preview date.