Warhammer 40K cards are surging in price!
The Warhammer 40k Commander Precons has been out for a while now, and the wild price fluctuations that came with the new cards being previewed have settled a little bit as everyone figures out what the "best cards" are. Unsurprisingly, the ones that are in the highest demand are the "surge foils", found in the all-foil Collector's Editions of the decks—all ten of the cards on today's list are the surge foils. Let's have a look at them, and chat about why they're so sought-after!
#10 Bloodthirster
(Surge Foil)
Universes Beyond: Warhammer 40,000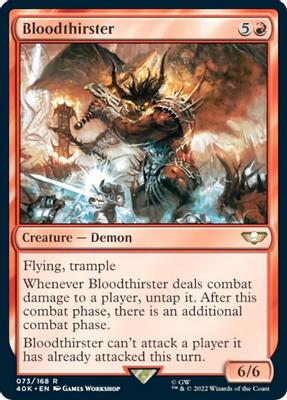 Extra combat cards have a devoted fanbase in Commander, with tons of players generating tons of extra combat steps with decks led by Commanders such as Etali, Primal Storm, Xenagos, God of Revels, and Aurelia, the Warleader. Bloodthirster is another excellent tool in the belt of extra combat decks, as by itself it can generate multiple extra combat steps per turn. A 6/6 flying trampler (are we still calling them flamplers?) shouldn't have too much difficulty getting in. Combined with cards that either untap your team after attacking or cards that just give them vigilance, Bloodthirster can help to unload devastating amounts of damage every turn cycle.
#9 Skullclamp
(Surge Foil)
Universes Beyond: Warhammer 40,000
Skullclamp is an all-time classic and a favorite of many old-school players who remember just how broken it was back in the day. For that matter, it's broken now: it's banned in every format outside of Commander and Vintage, which really tells you something. Skullclamp has been reprinted many, many times and has never been an outrageously priced card as a result, but between the new art and the unique foil treatment, 40k Skullclamps command a premium price.
#8 Sceptre of Eternal Glory
(Surge Foil)
Universes Beyond: Warhammer 40,000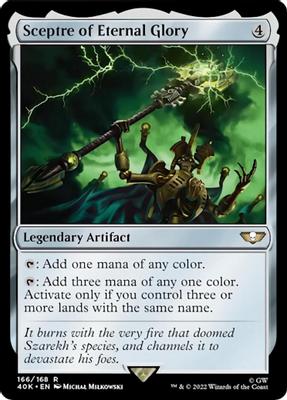 Quite aside from my personal enjoyment that this card is spelled with the British English "sceptre" rather than Magic's usual American English "scepter", it's not surprising to see Sceptre of Eternal Glory's position amongst the most expensive cards in this set. Largely unplayable in anything other than a mono-colored deck, the Sceptre is a very powerful incentive to fill your deck with basics, as a four-mana Gilded Lotus. You could maybe make it work in a two-color deck, assuming you have enough basics and ways to find them, but on the whole, Sceptre of Eternal Glory is going to be a prized addition to mono-colored Commander decks everywhere.
#7 Abaddon the Despoiler
(Surge Foil)
Universes Beyond: Warhammer 40,000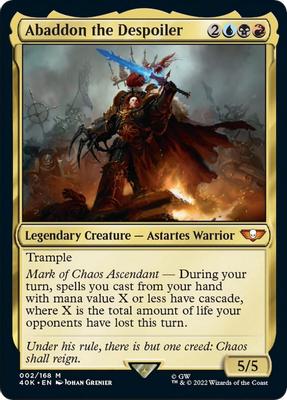 Abaddon the Despoiler has quickly become a reasonably popular Grixis Commander. While well short of Grixis icons like Nekusar, the Mindrazer, and Kess, Dissident Mage, Abaddon is nonetheless carving out space in Commander, bringing the cascade mechanic from Temur over to a new home in Grixis. Abaddon decks tend to thrive on chaos and disorder, and this new Commander is here to deliver it in spades, adding extra randomness to your spells by giving them cascade. While the regular, non-foil version of this card is quite cheap, the surge foil is obviously sought-after as a Commander, although I suspect its price may not be sustainable.
#6 Vexilus Praetor
(Surge Foil)
Universes Beyond: Warhammer 40,000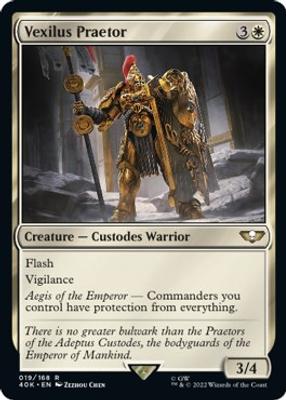 Even the regular, non-foil version of Vexilus Praetor isn't cheap, and the surge foil price further reflects the fact that this is a card that plennty of players want in their decks. It's no surprise, really: Vexilus Praetor is a robust and very frustrating piece of anti-disruption to fight through. It will not only fizzle your first removal spell but then demand a second one before you can kill their Commander—and in the meantime, that Commander can't be blocked or subdued in any other way. There's not a specific type of deck that Vexilus Praetor is built for, as it's just a generally useful card, but if your deck's game plan strongly relies on your Commander surviving, this is a great card to include in the 99.
#5 Blood for the Blood God!
(Surge Foil)
Universes Beyond: Warhammer 40,000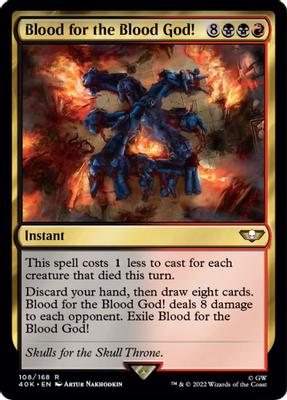 Holy moly, this card can do some absolutely ridiculous things. I couldn't believe it was an instant when I first read it—as a sorcery, you would have to jump through some hoops to cast it, but now it's just a huge life insurance policy against sweepers for any aggressive Rakdos deck. Already, it's seeing play in decks led by Raphael, Fiendish Savior, Extus, Oriq Overlord, and more—and with how busted it is to draw eight cards for three mana. I'm not surprised to see this card's price tag— and what's more, I don't expect it to fall.
#4 Celestine, the Living Saint
(Surge Foil)
Universes Beyond: Warhammer 40,000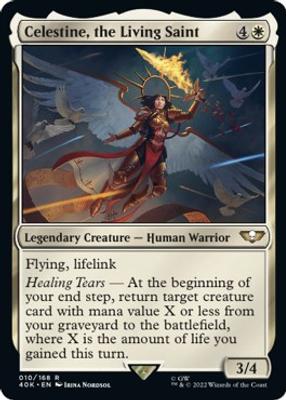 Personally speaking, I don't like Celestine as a Commander, a sentiment that is borne out by her EDHRec stats: like me, many other Commander players think she's best put to use in your deck, not as a Commander. There are simply much better options for lifegain Commanders. With that said, Celestine is excellent at what she does and is a worthy inclusion in more or less every lifegain deck worth its salt. I'm confused by the surge foil's high price, I must admit, as she's not the premium Commander that the top cards on this list are. I don't think the surge foil will hold at its current $40+ price point, and I'd expect to see it come down in line with her regular version as more time passes. 
#3 Ghyrson Starn, Kelermorph
(Surge Foil)
Universes Beyond: Warhammer 40,000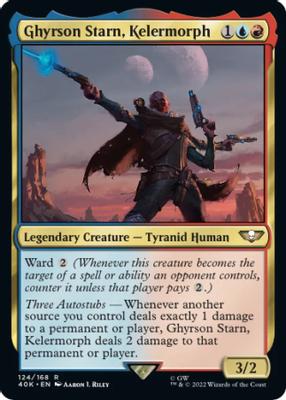 This card is so sick. Single-handedly revolutionizing an archetype, it's little wonder that Ghyrson Starn, Kelermorph has such a high price for the surge foil—he's a terrific commander, unrivaled as a leader of "pinger" decks. For anyone wanting to play with Prodigal Sorcerers or Thermo-Alchemists, you can't do better than Ghyrson Starn, and given how unique his design and flavor is, in conjunction with his relatively narrow set of abilities, I don't know that he'll be reprinted any time soon. This card could go up in price if the pinger archetype picks up steam – if that happens the surge foils will be eye-wateringly expensive, so if you're thinking about picking up a copy, I wouldn't put it off too long.
#2 Be'lakor, the Dark Master
(Surge Foil)
Universes Beyond: Warhammer 40,000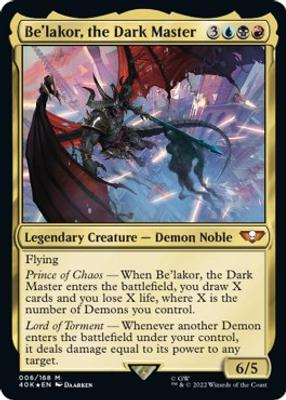 Be'lakor, the Dark Master has quickly eclipsed almost all the other popular commanders for demon tribal decks, and I wouldn't be surprised to see it overtake even Rakdos, the Showstopper as the demon tribal commander. The fact that you can essentially just play a normal Rakdos demons deck while also having the option to throw in tribal classics like Reflections of Littjara or EDH staples like Rhystic Study makes the demon tribe all the stronger, not to mention an absolutely sick suite of abilities, granting you extra cards and bonus damage. This is another premium Commander card, and the surge foil will be the go-to version for any demon fan looking to show off their new build.
#1 Marneus Calgar
(Surge Foil)
Universes Beyond: Warhammer 40,000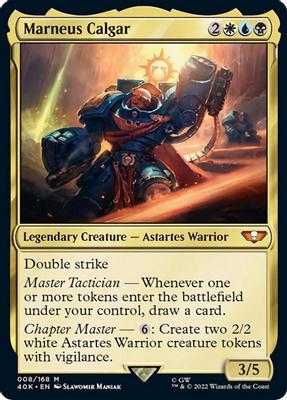 At the time of writing, the most expensive card in this set is the surge foil version of Marneus Calgar (editor's note: after the time of publication, it is now The Golden Throne at a whopping $69!), and you can see why. If you want to play Esper Tokens, Marneus Calgar is your guy, providing a hefty body, a card advantage engine, and a late-game mana sink in case you flood out. This type of versatile, flexible Commander helps win long games, and already Marneus is pushing traditionally Selesnya-based token strategies into Esper, where they trade Doubling Season for Bitterblossom. Not to mention what Marneus does to cards like Pitiless Plunderer or Smothering Tithe—you'll notice he doesn't say anything about them having to be creature tokens!